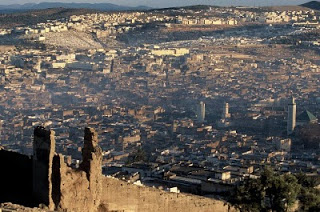 I have to thank Tobalev for holding the fort here. I've been away and/or in the process of moving for the past few weeks now.
Since I departed, a funny thing seems to have happened with our team – they have been able to take close games and picks up points consecutively for the longest sustained period in some time. Of course, this has led to a great change in the trade winds that govern fan opinion. Where January was the month of "blow it up, no wait, no blow it up", the wins have filled the bandwagon with sould and the Habs fan with the assurance that everything is going to plan.
Upon return to normality (another re-adjustment after getting used to the Fassi ways), I can see Fez all around me. I can especially see the experience I had down in the maze of tanneries and souqs in the maze of the Canadiens season.
Like us, the Canadiens set out in the outset with optimism and adventurousness. New players, new line combinations, new strategies – trying all things new, seeing where it took them. But like a couple trying to find a decent cup of mint tea at lunch, the Habs woke up in January some time with the realization that if they were going to get home, get to the playoffs where they believe they belong (not sleeping in the donkey shed) they needed to start understanding where they were and planning a route to where they wanted to be.
Easier said than done, right? Finding where you are is not a big challenge in the NHL. The standings are ubiquitous. In Montreal, "playoff position" is bandied about from Game 8 onwards. But finding the way back from 4th in the division, several games below 0.500 and a curious inability to both stop shots coming and stop important shots from getting past is more difficult. Entered thus the Canadiens a period of determined push with mixed result (the win-loss-win-loss days). This is where the Canadiens resided for months seemingly, going in circles, doubling back on themselves, walking through the same game of street football in search of that beautiful Riad they never thought they would find again and again.
We awake today with a team that seems to have found their way. That has passed landmark after landmark and seems in response to all our hopes and expectation to be heading towards that beautiful hotel of the playoffs.
In the hopeful space of my brain, I think as others do that everything is according to a plan, that this was always coming. But I wouldn't have learned anything in Fez if I hadn't learned this: Finding the right track for a few steps does not guarantee that you will turn that final corner to the hotel. In the NHL season, just as in Fez, you have only really arrived once you have arrived because there are enough intersections and alleyways to dive down headlong that take you off course right to the doorstep.
So as I revel that our team has not fallen the way of the Lightning these past couple of weeks. I present the reminder that being close to home is great, but getting in that door requires just a bit more effort. Let's hope we see it, starting Saturday.
(If I wanted to belabour this analogy, I'd tell you all how getting a beer in Fez requires as much hard work and dedication as a Stanley Cup run – but lets worry about the hotel door first).